Last edited by T.N.T. on Mon 13 Aug - 16:20; edited 1 time in total
Report from Patrick Clarke (NME)
Sep 2, 2018 11:49 am
AC/DC reportedly working on new album using Malcolm Young's recordings.
AC/DC are working on a new album which will feature the work of their late rhythm guitarist Malcolm Young
on "every track", according to "a reliable source inside the AC/DC camp", as quoted by Dallas publication JAM Magazine.
According to the source Young's brother Angus is working on a new AC/DC album, to be dedicated to Malcom's memory.
The rhythm guitarist died in November last year after retiring from the band due to early onset dementia.
Malcolm recorded the material that will be used for the album along with his brother in the early 2000s,
'five years prior' to their 2008 album 'Black Ice'.
The source told JAM:
"Turns out, five years prior to the 'Black Ice' LP, AC/DC's 15th studio release,
Angus and Malcolm Young lived to together [sic] where they literally wrote hundreds of songs,
many were recorded and have been stashed away until now.
"Angus has decided to selected [sic] the best tracks from those recordings that Malcolm played on
and is now back in the studio recording and mixing them with fellow band mates Phil Rudd,
Cliff Williams and yes, Brian Johnson on vocals.".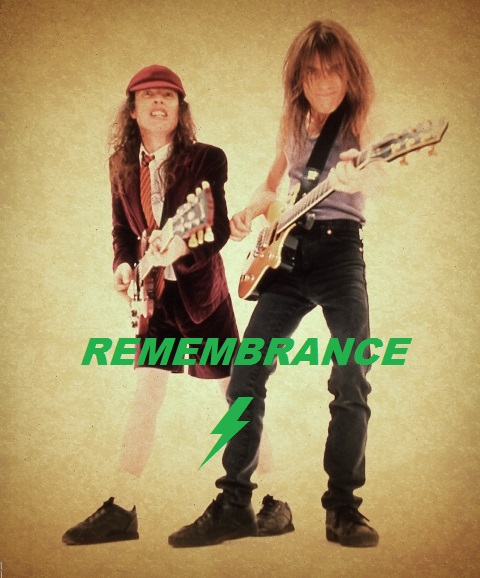 LINK:
https://www.nme.com/news/music/acdc-new-album-using-malcolm-youngs-recordings-2373336
November 5, 2018  6pm
AC/DC drummer Chris Slade has spoken about the band's future –
and has given his take on the rumours that Brian Johnson and Phil Rudd are back in the lineup.
The rock world went into meltdown earlier this year when estranged members Johnson and Rudd
were photographed together outside Vancouver's Warehouse Studios –
just a day after Angus and Stevie Young were also spotted at the same location.
Slade, who took over behind the kit after Rudd was kicked out of the band in 2016 after being found
guilty of drugs possession and making death threats, has now spoken about the rumours.
And while he's not giving too much away,
it would appear by his answers that he's not part of the band's plans going forward.
Asked by eonMusic if he thought that it was right that part of the old lineup were reportedly back together,
Slade replies: "Yes. If it works, good luck. It's great. And why not?
"There's all sorts of rumours: Axl's going to be doing a track, Brian's going to be doing a track,
there's so many variables here.
And I've learned with AC/DC also, not to believe the rumours, because even fans fake things.
"But Angus is now over 60, I think, so he's still got a few years to go, if you go by me and Brian.
That's all he does – he relaxes by painting, and he smokes fags, and that's about it, so the rest of the time,
he's playing guitar."
Asked about who might be playing bass on the rumoured studio sessions since Cliff Williams retired
at the end of the Rock Or Bust tour, Slade says: "I'm not sure about that.
"But Stevie Young and Angus both play bass.
Would Cliff come out of retirement? It depends on if he's bored or not,
because all he will want to do these days is go fishing with his son, who is a professional fisherman.
"So, I don't know. It's possible, of course, but there again, it's all rumours. But Angus is very big,
family-orientated, a la Stevie, so I wouldn't be surprised if there's a nephew or a cousin or something
who plays bass So, that's just a thought."
The drummer is currently on the road with The Chris Slade Timeline,
while there's been no official word from AC/DC about their plans going forward.
LINK:
https://www.loudersound.com/news/drummer-chris-slade-weighs-in-on-acdc-rumours
Similar topics
---
Permissions in this forum:
You
cannot
reply to topics in this forum