You know him as the drummer of AC/DC, his name is Phil Rudd and he has a new solo album
coming out called Head Job, which will be out on August 29, 2014.
Triple M Sydney (104.9 FM will be premiering the track this Friday. Listen from 3pm.
Triple M's Becko caught up with the man from his new home in New Zealand to find out what he's
been working on privately with this new album because this has come out of the blue.
At the time we'd heard just the one song, the single "Repo Man", and Phil gave us this warning:
"Well standby because most of the stuff on the album is better. I hope everyone thinks this is a
great album from start to finish because that's the idea," he said.
"We didn't put anything on there that we didn't like. There's no filler."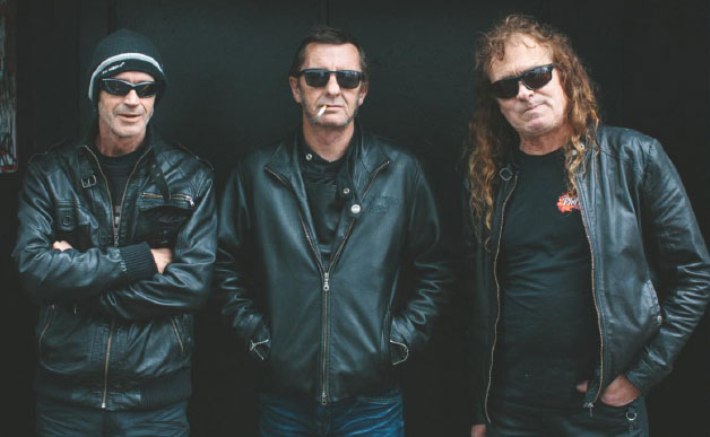 From the rollicking first single "Repo Man" to the rocking title track "Head Job", from the upbeat
dirgy groove of "Bad Move" to the relationship-driven "Crazy" Rudd has delivered a very personal
album "about the s*** that goes on.
We can't let him go without talking about the new AC/DC album which they've officially finished
at Bryan Adams' studio in Vancouver. It's where they've done the last three albums including their
2009's Black Ice.
"We're happy to have it done and it's very good, by the way," he said.
SETLIST:
01...Head job
02...Sun goes down
03...Lonely child
04...Lost in America
05...Crazy
06...Bad move
07...No right
08...The other side
09...Forty days
10...Repo man
11...When I get my hands on you
1st track available ! ! !



Phil talks about his solo album on the radio...
- - - 20 august 2014 - - -
Rudd invites stars to album party
AC/DC drummer Phil Rudd has invited Beatles drummer Ringo Starr,
world heavyweight boxing champion Wladimir Klitschko and motorcycle racer Valentino Rossi
to his private album release party in Tauranga next week.
Speaking yesterday to the Bay of Plenty Times at his Harbour Bridge restaurant, Phil's Place, Rudd, 60,
said he was looking forward to a bash on August 29 to mark release of his 11-track solo album Head Job.
"We will do a bit of a party, a few drinks ... It will be good fun, a lot of people I hope,
and everyone will have a good time.
A few chicken nibbles."
He said it was great to be making music again and wasn't worried about being back in the spotlight, joking:
"I'm ready, I'm a professional."
Rudd drummed and produced the album with two musician mates,
Allan Badger from Rotorua and Geoffrey Martin from Auckland.
He has known both for 25 years - they do vocals and guitars. A photo of Rudd,
Badger and Ringo Starr hangs on the wall in the restaurant,
and Rudd cites the Beatles drummer as an inspiration for his solo album.
"Badge and me met Ringo Starr when he came on tour and we met him at the Vector Arena.
I've been a fan of Ringo's since I was 13.
I don't know if he will come to the party. But imagine that ... if he did, then we will have a party."
Rudd did some work on the album in Rudd's Omokoroa studio which he set up in the 1980s.
The trio recorded the final version of the album was recorded in York Street studios, Auckland.
He said he was pleased with the way the tracks had turned out.
Rudd said it did not bother him when people draw comparisons to AC/DC.
"With AC/DC I'm also playing drums, and there are a couple of guitars, so, yes, there are comparisons."
Rudd even sang some vocals on his favourite track on the album, Head Job.
"When I was on the road with AC/DC sometimes people would say, come on ... sing. But I'm a drummer.
But I do a bit on Head Job."
And while the rock star would not be drawn on the specifics of a future AC/DC tour, he said,
"I am sure we will do a tour ... with an album..."
Rudd also penned many of the lyrics for the tracks.
Head Job he said is about "relationships... partners... people who do your head in.
Women who do men's heads in.
Men who do women's heads in."
Crazy is "about love... being crazy in love" and Other Side with the lyrics "I can make a brand new start,
don't let me slip back to the Other Side" he said he was referring to the "Bad Side".
Repo Man, which Badger penned, he says is about "Karma"
Rudd said he hoped people would like the album and that people who had listened so far "all had their favourites"
He wouldn't rule out a gig here in Tauranga
"If someone wants us to, why not."
And while the rock star would not be drawn on the specifics of a future AC/DC tour, he said,
"I am sure we will do a tour with an album...
it's not planned but it is likely... I'm pretty sure it is going to happen."
Late last year, frontman Brian Johnson said the band was gearing up to celebrate its 40th anniversary
with a new album and a world tour this year.
But since then there has been speculation about the illness of band member Malcolm Young.
Head Job will be released to Australia and New Zealand on August 29 under record label Universal
and will be released digitally worldwide.
LINK:
http://www.nzherald.co.nz/bay-of-plenty-times/news/article.cfm?c_id=1503343&objectid=11311529
- - - 22 august 2014 - - -
AC/DC drummer Phil Rudd has refuted rumors that the band will cease touring,
saying that "we will probably all have to be dead before it stops."
AC/DC was at one point expected to celebrate its 40th anniversary this year by playing 40 shows
in selected cities around the world, which have not yet been announced.
But then in April, the band confirmed widespread reports that guitarist Malcolm Young was stepping down
due to an undisclosed illness, with some outlets reporting that he suffered a stroke.
The legendary Australian act stated that it will "continue to make music," and began recording sessions
with producer Brendan O'Brien in May in Vancouver.
The group has enlisted Stevie Young, the nephew of guitarists Angus and Malcolm Young,
to take Malcolm's place in the band for the recording sessions for their 16th studio album.
Stevie Young played with AC/DC once before during a 1988 tour, while Malcolm stepped out to deal
with his dependency on alcohol.
Speaking to the Nine Network in a prerecorded interview, aired on Friday (August 22),
Rudd said: "There will be another tour and I will be on that.
"We will probably all have to be dead before it stops," he added.
AC/DC frontman Brian Johnson in June said that the band is "very likely" to tour before the end of the year.
Johnson made his comments in a brief message at his web site, in which he thanked fans for their support
of his U.K. television series "Cars That Rock".
Rudd will release a solo album, "Head Job", on August 29 via Universal Music Australia.
LINK:
http://metal-addicts.com/site/acdc-drummer-phil-rudd-there-will-be-another-tour/
- - - 31 august 2014 - - -
Phil Rudd legendary drummer for the one and only AC/DC- drops his debut solo record this week !!
I was lucky enough to talk to Phil about the record & some of his famous mates,
including Ringo Starr & Valentino Rossi + The future of AC/DC, will they tour Australia again & so much more...
https://soundcloud.com/daveoradio/phil-rudd-acdc-talks-headjob-lp-future-of-acdc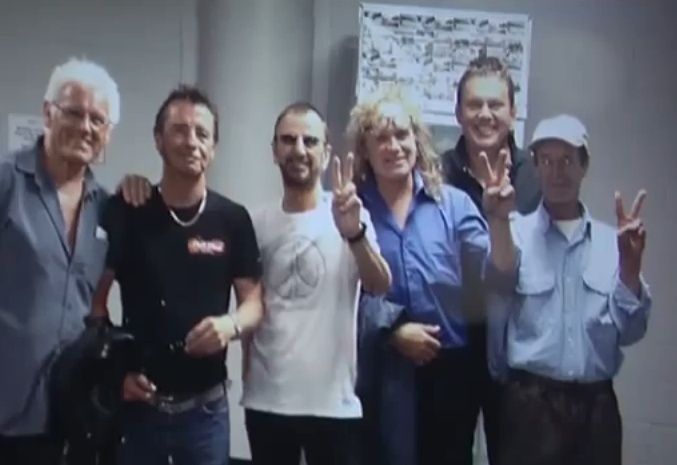 Similar topics
---
Permissions in this forum:
You
cannot
reply to topics in this forum