George Redburn Young (born 6 November 1946 in Glasgow) is a Scottish-born Australian musician,
songwriter and record producer.
He is best known as a member of the 1960's Australian rock band The Easybeats, and as a co-writer
of the international hit "Friday on My Mind" (1966).
Young was also the producer of the Australian hard rock band AC/DC,
which features his younger brothers Malcolm and Angus.
After retiring from the music industry in the late 1990's, he resides mainly in Portugal with his family.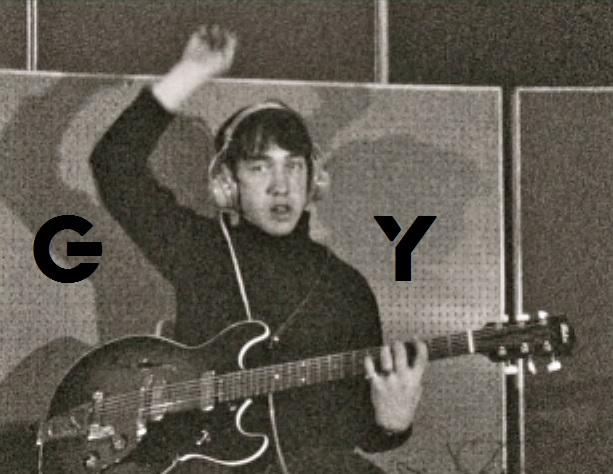 Like producer :
_Stevie Wright
_AC/DC
_William Shakespeare
_John Paul Young
_The Angels
_Cheetah
_Rose Tattoo
_Flash and the Pan
_Ted Mulry Gang
Like musician:
_Emile Ford and the Checkmates
_Grapefruit
_The Easybeats
_Haffey's Whisky Sour
_Band of Hope
_Tramp
_Moondance
_Paintbox
_The Marcus Hook Roll Band
_AC / DC
_Flash and the Pan
Young, the older brother of AC/DC stalwarts Malcolm and Angus, was 70.

'George was a pioneer who, with close friends Harry Vanda and Ted Albert,
created a new sound for the Australian music industry,' his Australian music publishing
and recording house Alberts said in a statement on Monday.

Alberts CEO David Albert described Young as a 'consummate songwriter, trailblazing producer, artist,
mentor and extraordinary musician.

'George was above all else a gentleman who was unfailingly modest, charming, intelligent and loyal,
a man with a wonderful sense of humour.'

His collaborator on so many of Australia's favourite songs left a simple message to his co-writer.

'Rest in Peace my dear friend,' Vanda wrote.

AC/DC posted a heartfelt message on their official website: 'It is with pain in our heart that we have to announce
the passing of our beloved brother and mentor George Young.
Without his help and guidance there would not have been an AC/DC,' it said.

'As a musician, songwriter, producer, advisor and much, much more,
you could not ask for a more dedicated and professional man.

'As a brother, you could not ask for a finer brother. For all he did and gave to us throughout his life,
we will always remember him with gratitude and hold him close to our hearts.'

Young was born in Glasgow and emigrated to Australia in 1963.

A meeting at Sydney's Villawood Migrant Hostel sparked the formation of The Easybeats in 1964,
comprising Young, Englishman Stevie Wright, Dutchman Harry Vanda,
Englishman Gordon 'Snowy' Fleet and Dick Diamonde.

They were the first Australian rock'n'roll act to score an international hit with the 1966 single Friday On My Mind,
reaching No.1 in Australia, six in the UK and 16 in the US.

Written by Vanda and Young, Friday on My Mind was The Easybeats' fifth number one in Australia
and the song has been recorded by David Bowie, Gary Moore, Lee Kernaghan and Peter Frampton among others.

He formed a successful songwriting partnership with Vanda and the pairing became synonymous
with some of the biggest hits for Alberts musicians.

They also wrote the Easybeats' Good Times, later covered by INXS and Jimmy Barnes,
in addition to John Paul Young's classic Love Is In The Air, Wright's Evie, Parts 1, 2 and 3 plus songs for Meatloaf.

'I owe him and Harry a hell of a lot. They basically gave me a career,' John Paul Young told AAP.

'They worked very very hard. It was nothing for them to leave the studio at 4 and 5am they put everything into it.
They were just so talented.

'They were among the first producing teams that started fostering talent and getting it out there.
They decided that the stage was no longer for them and their future was in writing songs
and in finding people to record them.'

The pairing also produced several of AC/DC's earlier albums including 1976's Dirty Deeds Done Dirt Cheap.
---
Permissions in this forum:
You
cannot
reply to topics in this forum