The New York Times
Published: May 26, 1982
Incompetent bastard journalist in hard rock  =
Stephen Holden
''AC/DC: LET THERE BE ROCK,'' which opened a one-week engagement last Friday at the Ziegfeld Theater,
is a dull, cheaply made concert film that should appeal only to diehard fans of the hugely popular Australian rock quintet.
About three-quarters of the movie is taken up with concert footage filmed in France two years ago.
Crudely spliced in are scenes of the group loafing and snippets from an interview in which an off-screen voice
asks questions such as ''Are you waiting for the Third World War?'' and ''What do you think of soccer?''
Their responses are almost invariably so garbled - apparently by drunkenness - as to be virtually unintelligible.
The AC/DC that appears in ''Let There Be Rock'' is not the group as it exists today.
Since the movie was made, the tattooed, oafish lead singer, Bon Scott, has died;
he was succeeded by Brian Johnson.
And musically, the group has grown from a mediocre parody of Led Zeppelin into one of the more
craftsmanlike of heavy-metal bands -
one whose satanically inclined anthems are shaped with a lean, melodic concision.
But the star of AC/DC, then as now, is their lead guitarist, Angus Young, a kind of low-rent Mick Jagger,
who literally hurls himself across the stage, shaking cloudbursts of sweat from his hair, duckwalking,
doing a striptease in which he bares his behind and, at peak moments of frenzy,
wriggling spastically on the floor, clutching his guitar.
Technically, the movie is not all it's cracked up to be.
At the Ziegfeld, the so-called Wall of Sound, which features a bank of 2,500- to 5,000-watt five-way amplifiers,
is loud, to be sure.
But it doesn't come close to capturing the reverberating thunder that can make arena rock so viscerally exciting.
And in many of the concert scenes the soundtrack is noticeably out of synch with what's on the screen.
Ideally, a filmed rock concert should try to bring out the interrelationship among the musicians
and to suggest how the music works, both on a technical and an emotional level.
''AC/DC: Let There Be Rock,'' however, doesn't even begin such an exploration.
''AC/DC,'' which has been rated PG (''Parental Guidance Suggested''),
contains some obscene expletives and sexually frank talk.
For Diehard Fans
AC/DC: LET THERE BE ROCK, directed and produced by Eric Dionysius and Eric Mistler; released by Warner Bros.
At the Ziegfeld, West 54th Street and the Avenue of the Americas, and other theaters.
Running time: 98 minutes.
This film is rated PG.
WITH: Bon Scott, Angus Young, Malcolm Young, Phil Rudd and Cliff Williams.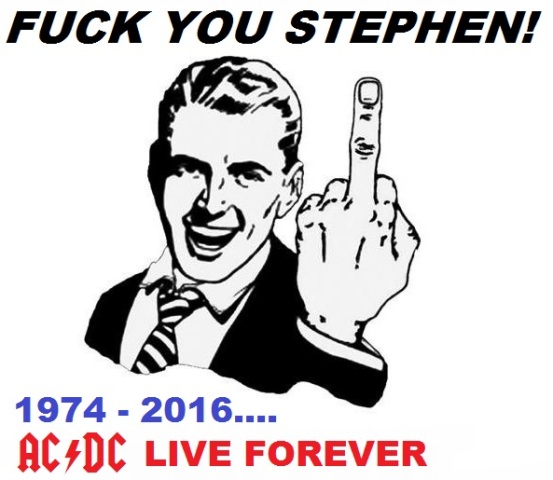 ---
Permissions in this forum:
You
cannot
reply to topics in this forum