Klenfner's lieutenant at Atlantic – indeed he came to the record company from Arista with Klenfner
as a team in 1977 – head of artist relations Cooper was a popular figure with AC/DC and
was the name on Bon Scott's emergency-person-to-contact card, according to his daughter Renée.
Cooper was a driver, along with Judy Libow, of the Live From the Atlantic Studios promotion in 1977,
that went out to American radio stations and helped get the band critical airplay
before they broke with 1979's Highway to Hell.
Cooper remained close to the band after Bon Scott's death in 1980.
He died May 28, 2005.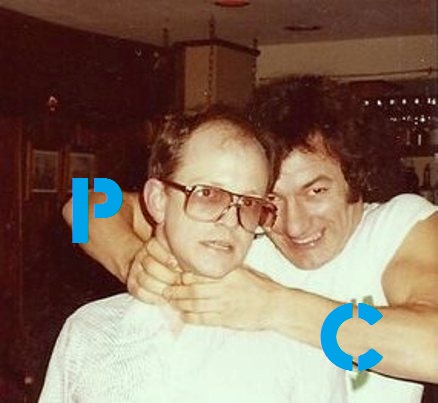 Brian Johnson mock strangling the late Perry Cooper.
---
Permissions in this forum:
You
cannot
reply to topics in this forum